30 May

In the NY Times!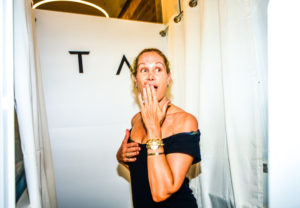 Step Into Our Selfie Booth and Help Us Build Our Brand
By JOANNE KAUFMAN
MAY 17, 2017
Below is an excerpt from the original article. To read the full piece, click here.
Morgen Schick, a Ford model turned beauty and anti-aging guru, sidled into the bright white photo booth on a recent morning and pondered the tools she could use to embellish her selfie: props in the booth include tiny flags festooned with hearts and a pair of weights — and there are four photographic filters, all designed to flatter like mad.
"That's not bad," said Ms. Schick, 52, examining herself on the screen before clicking. "There isn't a filter to make me look 25, but that's O.K. We're embracing the now."
She had taken her first Tracy Anderson post-workout all-aglow selfie the previous day and here she was back for an encore — even though it meant she would be late for her catapult cardio class.
"I don't know if you've taken a class here, but you leave everything on the bouncy floor," she said. "Tracy meets you where you are, and that's awesome. I'm a 5-foot-10-inch size-10 woman who's in menopause. That's what I love about the photo booth — it meets you where you are, too.